Are you still spending time building your own html? Get the secret your affiliate marketing competitors are using. Give yourself much needed time and use Easy Product Displays to quickly and easily search, create, and have the code handed to you for your product displays.
What can you get for $6.99 a month? Easy Product Displays can jump start your affiliate marketing or blogging possibilities. It is the Go To Tool for #workfromhomemoms, #affiliatemarketers, and #WAHMS. You should invest in a tool that helps put money back in your pocket, not to mention the time savings!
Even if you are not an affiliate marketer, or want to use merchants we don't have listed in the tool yet (we are constantly adding merchants) you can very easily add your links manually. And if you ever have a question we have a responsive support group to help you.
You want to write and promote your products, not to learn a coding language. You don't have to! We have done almost all the work for you but you are in control of your displays and all the clicks are yours. We NEVER insert our tags in your displays.
Here is a sneak peek inside Easy Product Displays. See what our tool has to offer you as a blogger.
20 Product Display Templates To Pick From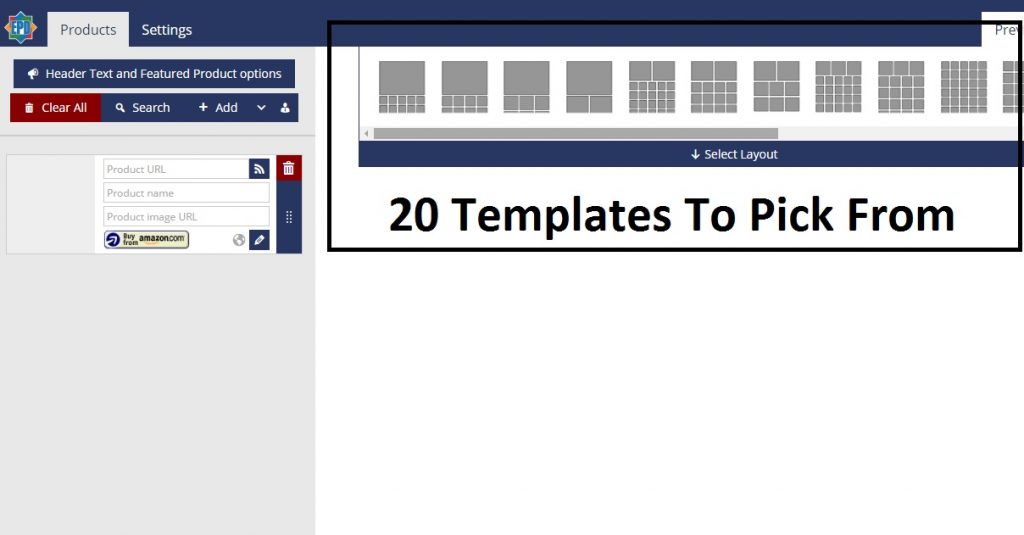 Search For Products From Amazon
Use EPD to do a quick, easy search from Amazon, Zazzle, or select products from over 200 Shareasale merchants. Easy Product Displays is perfect for showing comparison shopping or promoting add-on related items. Your dashboard area gives you the option of adding as many affiliate tags as you need and you are provided with a dropdown menu so you can select the right one for each blog.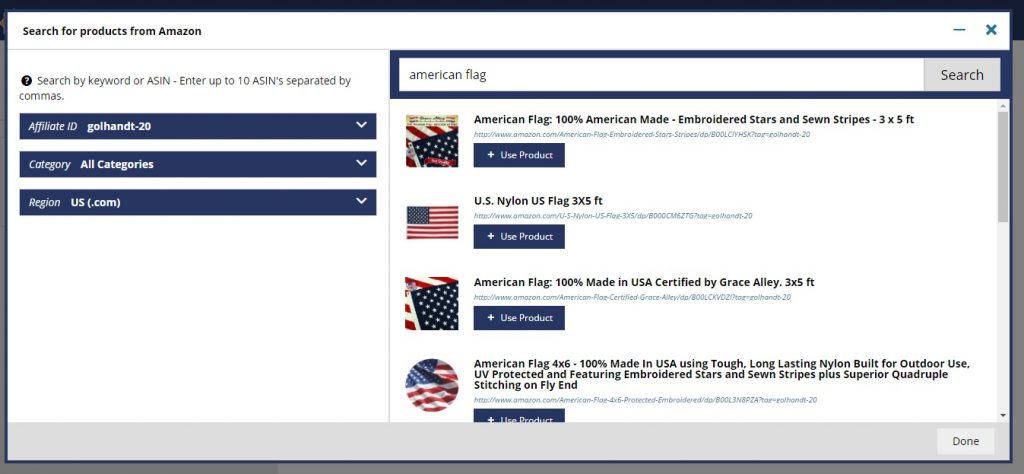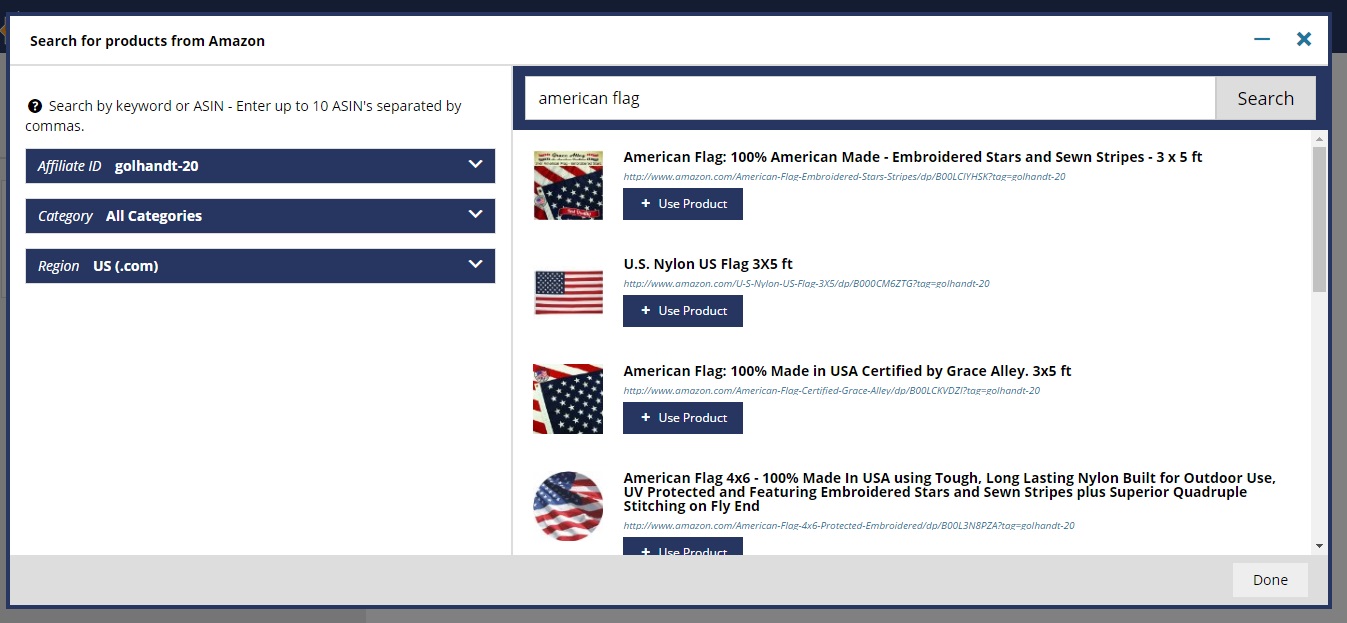 Easily Make Amazon Product Displays
Here is an example of our 250×250 multiple Amazon product displays. With over 20 templates to pick from, you are able to get creative.
American Flag 3×5 ft. Nylon SolarGuard Nyl-Glo by Annin Flagmakers, 100% Made in USA

Allied Flag American Home Nylon 3 by 5-Feet US Flag Set with 5-Feet Spinning Flag Pole

Search For Products From Zazzle
You select whether to show the name of the product, edit the item description, fonts, colors, and YOU control Follow / No Follow links. You can even save these preferences in your locker settings.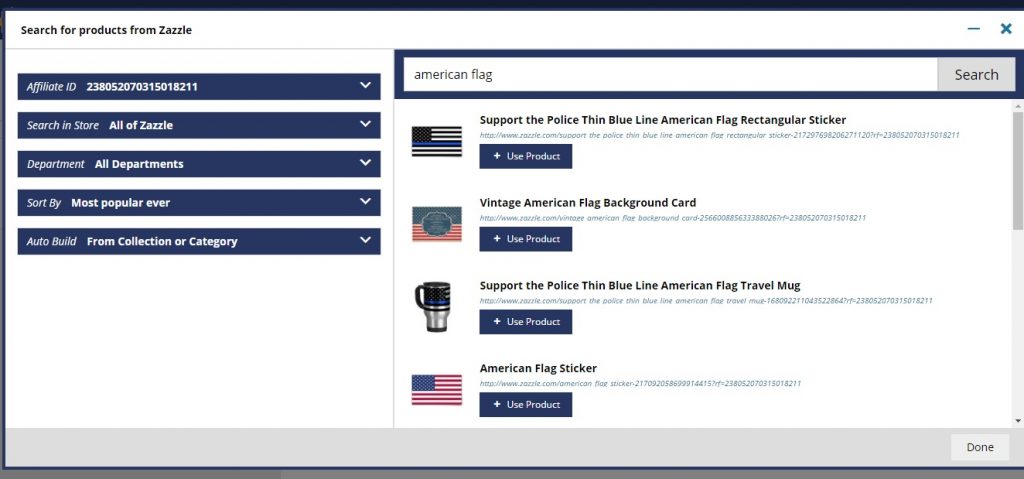 Search For Products from ShareASale Merchants
Some of the extras EPD provides are Buy Now merchants buttons for your call to action. You can add all your tracking ids in your dashboard if you have different ones for all your different sites. You can save them and use the dropdown menu to select the right one.

Easily Make Product Displays from Various ShareASale Merchants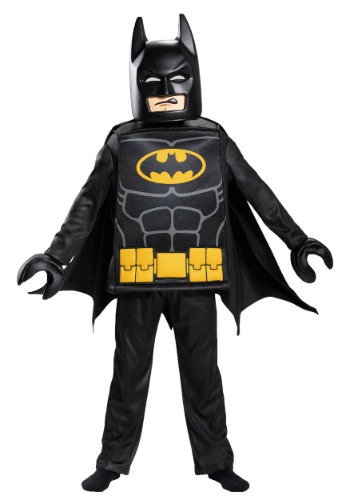 Boys Lego Batman Movie Batman Costume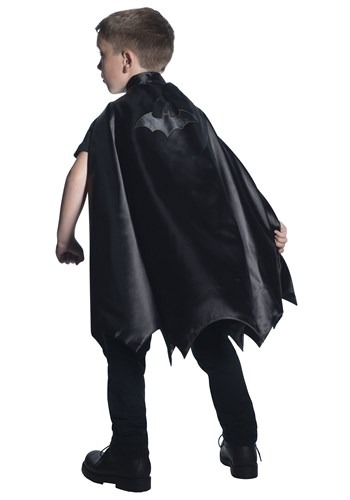 Child Deluxe Batman Cape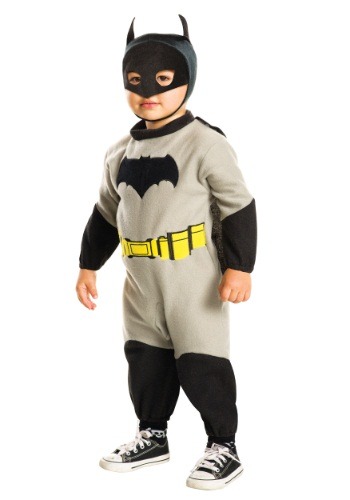 Toddler Batman Fleece Romper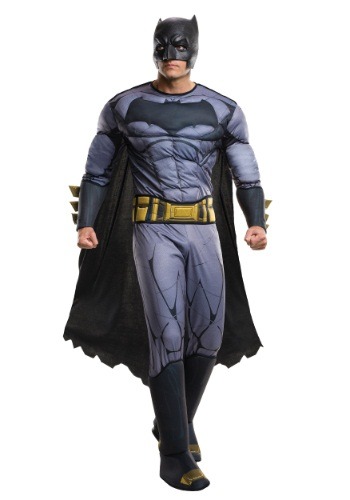 Deluxe Batman v Superman Batman Costume

More than 200 ShareASale Merchants
We have over 200 of the ShareASale merchants and are adding new ones all the time! All SAS merchants don't provide a datafeed but we work with as many as we can to get the best merchants for you!
Easy Product Displays will produce the basic html code to copy and paste into your post or page. You don't have to learn "geekaneze" (we've done that for you) to make serious money in affiliate marketing.
You have control of adjusting fonts, colors, ability to add borders, and even use our pre-made buy buttons or create or add your own.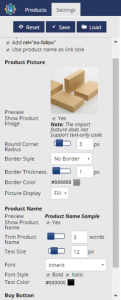 There is so much more to this tool you haven't even seen yet and it is already worth twice what you'll pay. Check out the Zazzle Fetch button in action! There is much more once you are inside!
An Example of the Final Display
You have control over the sizes of the images and fonts, even the Buy buttons. This is just one layout from the 20 available templates. As you can see, you can mix and match items from different merchants and use their Buy button so that your customer always knows where you are taking them.
American Flag Love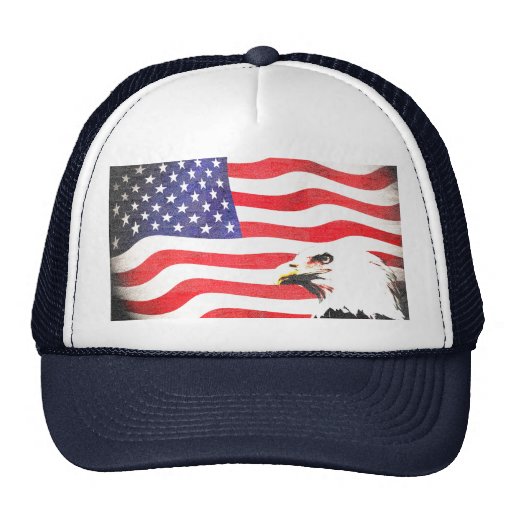 Stars, stripes and
Valley Forge Flag

ANLEY [Heavy Duty]

U.S. American Flag

American Flag: 100%

Subscribe Now!
We make it easy to keep Easy Product Displays in your blogging arsenal. We have 3 merchant subscription options with the ability to pay monthly or save even more with a yearly subscription. So check out Easy Product Displays and see how much more you can get done in less time than you ever thought possible!
You get all this for a very small price of $6.99 a month for access to the full tool.
Our intent is not to teach you how to promote products or find your niche, other people have that covered. Our focus is to provide you with the tool to make it easier.